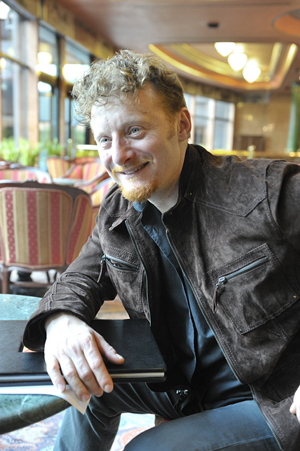 I have always been fascinated by knives and blades. When I was eight years old I managed to make my first knife out of the blade of an old carpenter's saw and two pieces of wood. Since then my passion for knives has never ceased growing. The emotion and enthusiasm I have for making knives has always been strong, such that what began as a hobby (I started making knives in 1988) has become my principle economic activity. I am convinced that every artistic creation requires a great passion on the part of the artisan. Without this passion the actual task would become mechanical and cold. Each knife one produces should be the result of painstaking care and attention to detail, a unique piece of work, which evokes an emotional response from both the eye as well as to the touch. The artisan should constantly strive to create new forms and designs.
Initially the difficulties I experienced in finding appropriate raw materials (metals, wood and horn) proved a big obstacle for me to fully unleash my creative abilities. It was not until 1990 that I was able to enjoy the invaluable help of Francesco Pagani, who in addition to his advice offered me and other small craftsmen the possibility to realize our own artistic ambitions by supplying the steel and other necessary materials for our creations. My previous profession experiences have also allowed me to learn processing and thermal treatment techniques for metals. This knowledge has aided me considerably in my knife-making process. Since moving to Lecco in 2004, I have dedicated myself full-time to knife-making. Starting in 2005, I began working in collaboration with the firm Tecnocut di Maniago (Italy) where I have designed some of their most recent models including the Timeless, Quality, Drop, and Boletus.
I design and manufacture knives in modern styles with both fixed and closed blades. I use materials currently out of vogue in knife-making such as RWl34 and 440B/C steel, as well as home-made and industrial Damascus steel. For the handles I utilize horn, ivory, teeth, wood, mother-of-pearl…..the list goes on. I also love to blend modern and traditional Italian styles. One detail that characterizes my knives is my rounding of the liners, bolsters and handles. By employing this technique you avoid contact with rough edges, and above all when using natural materials that are commonly subject to variations in dimension. One finishing touch I employ on my blades is a manual glazing in a longitudinal direction. I also apply a fine polish on all the components of my knives including the spacers and the screws. My particular knife-making technique requires a significant amount of additional labour. However, I do believe it is absolutely necessary when creating knives to pay close attention to each and every possible detail in order to end up with a superior artistic creation.